Sintra trams
History and network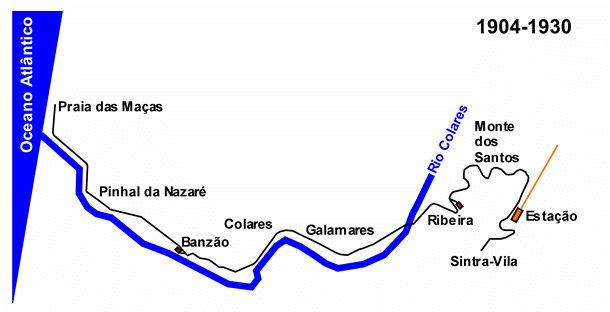 In 1904 an 11.7 km long metre gauge electric tramline was opened from Sintra (station) to Praia das Maças (Applebeach). An 1.0 km longconnected urban line the station in Sintra-Estefânia with Sintra-Vila. Some freight transport existed, mainly between Banzão and the railway station. In the small Banzão depot is still a weigh bridge and the only track of the depot gives also access to the warehouse of a winery. At the railway station was a siding to make transfer of goods easy.

In 1930 the line was extended by 1.9 km from Praia das Maças to Azenhas do Mar bringing the total length of the system on 14.6 km. This last extension was closed again in 1954, the urban line was closed in 1955. From 1953 until 1974 the service was limited to Summer only. During the period 1975 to 2003 no service at all or only a very limited service on part of the line existed. Since the Summer of 2004 the line is almost reinstalled complete again between Sintra-Estefánia and Praia das Maças, except for an about 600 m long section through the town of Sintra until the railway station.

During the Summer season there is an almost hourly service on Fridays, Saturdays and Sundays. A one way trip takes about 45 minutes. On Tuesdays, Wednesdays and Thursdays trams can be hired.

Rolling stock

Original there were three closed and four open cross-bench cars plus two closed and four open cross-bench trailers. All this rolling stock came from Brill of Philadelphia. The original colours and numbering of the trams is not known. In the 1950's the trams were yellow, around 1960 they were for several years blue. Since the late 1960's they are red.
During the years reconstructions took place. Three new domed-roof bodies similar to the Lisbon "Standard" cars were constructed. Together with truck changes and renumberings this resulted in the following fleet:


In 2006 the Ribeira depot was rebuild. Except for the fleet of Sintra, two more former Lisbon cars are stored there. One is 703, the other the 615 owned by a tram enthusiast. Also two former Coimbra trucks came to Sintra.